"At the end of the day the huntsman blows his horn one final time. The distinctive notes tell that the day is over and it's time to return home (sometimes from quite a distance away).
"For some the pub beckons, others a hot bath and a meal after seeing to the terriers, but for all followers, hounds and huntsman its time to 'ga yam' (go home)."
NEW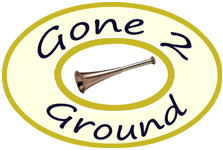 Gone to Ground Books
Just launched - new web site where you can purchase Ron's books on-line. Also Lyn Harber's Try Back Lads, Try Back 2.