NEW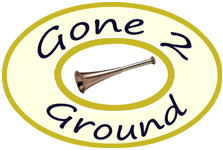 Gone to Ground Books
Just launched - new web site where you can purchase Ron's books on-line. Also Lyn Harber's Try Back Lads, Try Back 2.
ECHOES AND REFLECTIONS OF A LOST LAKELAND COMMUNITY

SHAP LOCAL HISTORY SOCIETY

Reviewed by Ron Black

Just after 2pm on Saturday 3rd September 2011 the reception desk bell of the now demolished Dun Bull Hotel, Mardale sounded its ting ting. Normally visitors to the Shap Local History Society building ring this bell as a curiosity but today it was rung to announce the launch of the above book. I had known of the existence of this book for a while, my family having an association with the famous Shepherds' Meet hunt gives me an interest in Mardale in general and the hunt in particular, but I had not seen it. I paid for my copy and sped home down the M6 in the usual appalling Lakeland weather. Later that evening I sat down and opened the book.

Inside its covers I found a wealth of information, some old, much new about Mardale and its history, farms, sheep marks, inhabitants, flora, the list goes on…

Incorporating previously unseen material from their archives into the text the Society brings the characters back to life and the waters of the dam drain away to reveal a lost landscape and their way of life in the eleven chapters and 213 pages.

The hunt features, but perhaps some more research would have enhanced the piece, however this is a minor quibble.

The book is well illustrated and the pictures on the whole have reproduced well, especially the colour plates. There is a very good section entitled Notes and Bibliography.

A family holidaying in 1927 produced a little publication for their amusement entitled The Goosemire Guardian, each member of the family had to choose how they would get to Mardale from home and write an account of the imaginary journey. Moving forward to 2011, my choice would be to follow the footsteps of my ancestors and come over High Street, descending into the valley I'd rely on this book to "guide me".

And when the time came to leave the valley I'd be a wiser man.

Ron Black

CONTRIBUTED ARTICLES
PUB TALK
What's a Bloody Rock Inspector?
The Fox Went Straight up the Steep Fell Side