Ron book signing at Lowther Show, August 2014
"Thanks to all the people who took the time to visit, I was genuinely humbled that so many of you liked the site and the books."
_______________________
New Postings October 2014

"Recently I was told that 95% of Lakeland was unexplored in an Archaeological sense. With the abolition of Fox Hunting in 2005 there was a slight chance that places and structure(s) associated with fox hunting would in the fullness of time join them, lost in time and memory.
"It was with this in mind that I began to compile material for this site. It is NOT my intention for it to glorify or be used as propaganda for or against hunting, but simply to record associations with a 'sport' traditional to Lakeland for over 300 years.
"I am a native Lakelander with roots going back to 1700, the 4th generation to follow hounds, with ancestors who stood on the cold tops at dawn, moved the heavy lakeland stone to free trapped terriers and also 'carried the horn' on occasions. I hope this site is of interest to you. Hunting will not come back in the foreseeable future, perhaps not at all, but for three hundred years hunting and the church were the central thread to many communities. This is a part of the story."
---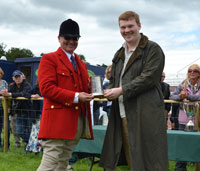 Andy Black (Brait's great, great nephew), presents the Brait Black Memorial Cup to Barry Todhunter (Blencathra) for the Reserve Champion Fell Hound at Lowther Show 2013
© D Atkinson

This site is dedicated to the memory of Robert Dixon of Rooking Patterdale who, on the morning of 27th November 1856, left home to follow the Patterdale Foxhounds. During the course of that morning he fell from Striding Edge on Helvellyn; critically injured he was taken home but died in the early hours of the next morning aged 33 years.